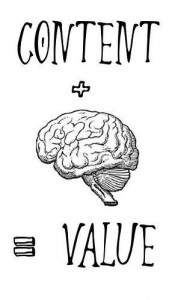 It's official. Content marketing – once seen as niche in B2B – has gone mainstream. According to the latest report from the Content Marketing Institute and Marketing Profs, nine out of ten B2B marketers now use content to grow their businesses.
While 68% of marketers surveyed said they use a mixture of in-house and outsourced expertise, it's clear a big chunk of the work still falls in-house. But few marketers have the time, budget, and inclination to create endless streams of content, so maximising its value is critical.
Content assets – clue's in the name – have value, but you need to find ways to harness it. With that in mind, I've identified 6 ways to help you unlock the latent value in your content…
1. Look Around for existing content assets
Faced with developing a full content suite from scratch? Take a deep breath, and look around.
Most companies have pre-existing materials you can draw from – case studies, whitepapers. They're often created in a single format, for a single purpose, and frequently lost in a dark corner of a corporate website.
These are quick wins that can be rapidly repurposed with littl