Ok. We get it. Content marketing matters. How could we not get it, when every blog, forum, conference, and webcast bombards us with the latest 'best practice guides' on content marketing?
In a study from Marketing profs last year (click on the chart below for a closer look) 51% of B2B marketers said they planned to increase their spend on content marketing in the following 12 months. Additionally some of the biggest challenges were cited as producing engaging content (36%) and producing enough content (21%).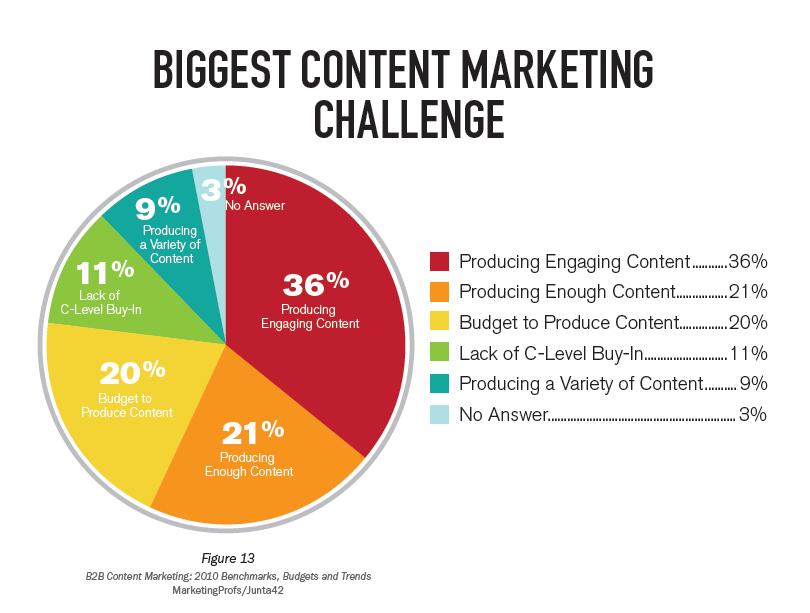 Now, these figures are interesting. But what they don't tell you is why these are such big challenges.
Personally, I believe it is the very structure and mind-set of many B2B companies that makes effective content marketing such a challenge. Here's an example from my own experience:
Years ago I was drafted into a firm to enhance their product brochures ahead of a big trade fair. I had virtually no time, and very little product knowledge. As I frantically engaged with the existing marketers to understand and define how the product actually helped the end user, it became clear that this was the first time they'd tried to articulate the benefit of their products from their buyer's perspective.
And I don't think that's unusual. Browse the brochure racks of any tradeshow today, and you'll still find countless examples of bland, jargon-filled collateral that read as if they were written by evil genius robots intent on sucking the life out of all business communications on this planet.
So it seems that focusing on the buyer persona rather than the product doesn't come easy. The more I thought about this, the more it became obvious this wasn't the only reason why content marketing is such a challenge. Here are 6 more things I see as challenges – and suggestions on how to tackle them. I'd love to know what you think!
1. Bear in mind the legacy of the interruption marketing mind-set
For years B2B marketing has been entrenched in a static model where sales people followed up on leads from trade adverts, direct mail, telesales, and of course tradeshows. Many were interruption-style tactics focused on grabbing attention more effectively than competitors.
In my experience people barely have the time to open trade magazines, let alone notice the adverts. In an age where many B2B purchases start with a set of keywords related to the need or problem, a different approach is needed. Problem is many senior B2B marketing folks are still stuck in the interruption-model mindset.
Suggestion: make sure you educate your organisation before you develop your content marketing strategy.
2. There may be a lack of actionable customer insight
Market research has long underpinned strategy in consumer markets. However – get ready for a huge generalisation – in my experience B2B marketers tend to know a lot less about their customers!
Why?  For one thing, the B2B market universe can be relatively small, so a typical market research approach can be hard to co-ordinate. Also, the remit of the marketer is often painfully broad in B2B: events management, PR, copywriting, direct marketing – you can see how customer insight can fall off the priority list.
Suggestion: learn everything you can about your audience before you start developing content. 
3. Developing effective content requires a new skill-set
Marketers are frequently hired for their skills rather than deep knowledge of an industry. The upshot is that many marketers don't feel equipped to develop content that truly engages audiences on specific topics.
It's not surprising. Developing great content in-house requires a hybrid skill-set drawing from journalism, features-editing, search engine optimization and social media marketing. That's why so many companies decide to outsource content development. At the very least, content marketers need a solid understanding of the subject matter – so the ability to research a story and tap into the knowledge of experts is crucial.
Suggestion: start by identifying your internal subject matter experts!
4. Subject matter experts aren't always willing or able
If marketers aren't natural subject experts, then tapping into the knowledge of the expertise around them is crucial. But this can be hugely challenging when the experts don't see marketing as part of their remit or don't have time to help.
To make content marketing work, the task of developing content can't sit solely with the marketer: sharing knowledge needs to become part of the official remit of your subject matter experts. Whether it's part of their remit or not, you'll still need to convince your experts of the benefit to their careers. Ask them to Google "why personal branding is important" and they'll likely get the picture.
Suggestion: focus on getting buy-in with your internal subject matter experts!
5. Tools owned by other marketers
Frequently in large global firms a corporate marketing team may govern the content publishing platforms (such as blogs and web platforms, and third party platforms such as slideshare) with a command and control mentality. This kind of gate-keeping, while well-intentioned, can be really detrimental to effective content marketing when you need to rapidly publish across more than one platform to gain the full benefits of SEO, reach, and first-mover advantage.
Suggestion: clarify exactly which channels you need to use – and even more importantly, who to get the approval from – before you start!
6. Good old resistance to change
Companies tend to focus on one thing only: selling product and services. So the concept of spending precious resource developing content designed to engage your market at each stage of the buying process is alien to many. A content marketing strategy requires a re-think of traditional marketing tactics, but as we all know, change doesn't always come easy.
Suggestion: start small! Launch a limited, off-the-radar content marketing trial using a variety of channels. Track performance fervently. Present your findings to your key internal stakeholders and get their buy-in. Develop a larger scale content marketing strategy for your business. Enjoy the fruits of your labour.
Good luck!