Ok. We get it. Content marketing matters. How could we not get it, when every blog, forum, conference, and webcast bombards us with the latest 'best practice guides' on content marketing?
In a study from Marketing profs last year (click on the chart below for a closer look) 51% of B2B marketers said they planned to increase their spend on content marketing in the following 12 months. Additionally some of the biggest challenges were cited as producing engaging content (36%) and producing enough content (21%).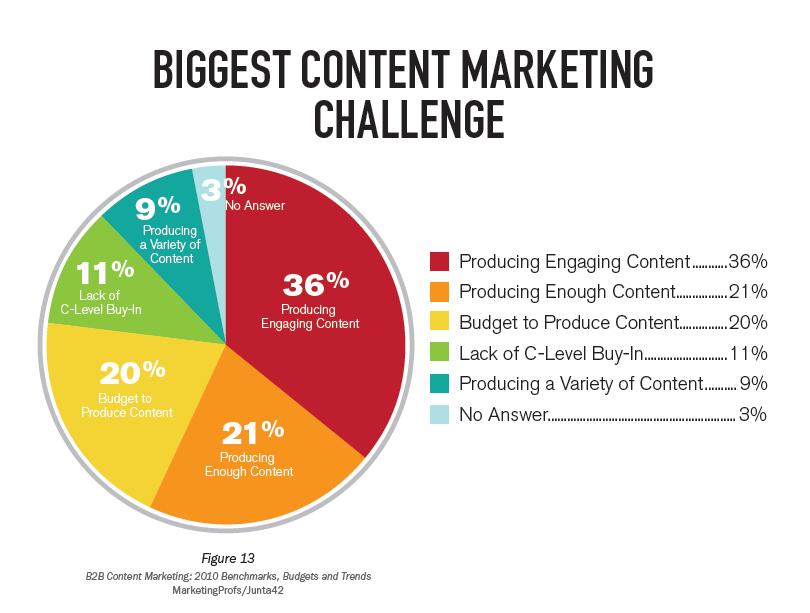 Now, these figures are interesting. But what they don't tell you is why these are such big challenges.
Personally, I believe it is the very structure and mind-set of many B2B companies that makes effective content marketing such a challenge. Here's an example from my own experience:
Years ago I was drafted into a firm to enhance their product brochures ahead of a big trade fair. I had virtually no time, and very little product knowledge. As I frantically engaged with the existing marketers to understand and define how the product actually helped the end user, it became clear that this was the first time they'd tried to articulate the benefit of their products from their buyer's perspective.
And I don't think that's unusual. Browse the brochure racks of any tradeshow today, and you'll still find countless examples of bland, jargon-filled collateral that read as if they were written by evil genius robots intent on sucking the life out of all business communications on this planet.
So it seems that focusing on the buyer persona rather than the product doesn't come easy. The more I thought about this, the more it became obvious this wasn't the only reason why content marketing is such a challenge. Here are 6 more things I see as challenges – and suggestions on how to tackle them. I'd love to know what you think!
1. Bear in mind the legacy of the interruption marketing mind-set
For years B2B marketing has been entrenched in a static model where sales people followed up on leads from trade adverts, direct mail, telesales, and of course tradeshows. Many were interruption-style tactics focused on grabbing attention more effectively than competitors.
In my experience people barely have the time to open trade magazines, let alone notice the adver