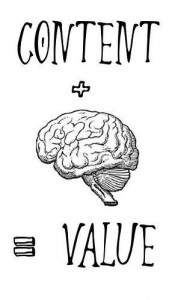 It's official. Content marketing – once seen as niche in B2B – has gone mainstream. According to the latest report from the Content Marketing Institute and Marketing Profs, nine out of ten B2B marketers now use content to grow their businesses.
While 68% of marketers surveyed said they use a mixture of in-house and outsourced expertise, it's clear a big chunk of the work still falls in-house. But few marketers have the time, budget, and inclination to create endless streams of content, so maximising its value is critical.
Content assets – clue's in the name – have value, but you need to find ways to harness it. With that in mind, I've identified 6 ways to help you unlock the latent value in your content…
1. Look Around for existing content assets
Faced with developing a full content suite from scratch? Take a deep breath, and look around.
Most companies have pre-existing materials you can draw from – case studies, whitepapers. They're often created in a single format, for a single purpose, and frequently lost in a dark corner of a corporate website.
These are quick wins that can be rapidly repurposed with little extra resource. There's an opportunity to get more value by optimising them for search engines (helping people to find them), and for the social web (helping people share them).
2. Repurpose…but don't duplicate
The key to getting more value from content is to repurpose it for a range of channels. Remember, repurposing doesn't mean duplicating: rework content for the strengths of each medium. Some quick n' dirty examples:
Webcasts are often used on a one-time basis. Big mistake. Slides and transcripts can be repackaged into ebooks, reports or whitepapers.
Whitepapers and ebooks need to be tightly structured, so it's often
possible to republish individual sections as blog posts. Equally, you could start by publishing each chapter of an ebook as a series of blog posts, before publishing the whole thing.
Blog posts are perfect fodder for repurposing. For example a post can be redeveloped into a slide deck, and published on Slideshare. With some additional input you could also turn it into a podcast or slidecast.
3. Harvest
eNewsletters are a great for long term engagement with your opt-in list. If you're publishing ongoing content, the challenge of pulling together a newsletter is greatly eased. A quarterly edition might include:
Top 10 blog posts of the quarter
A case study
Links to your latest ebook
If the content already exists, this is a great way to extend its value by packaging it and pushing it to relevant folks.
4. Cross-pollinate
Find opportunities to generate more value by integrating multiple content elements and channels. Some examples:
Extend the value of speaking engagement & webcasts
Prior to the event, publish a number of blog posts on related topics
Tell the audience the slides will be on the blog straight after the session
Have a blog post ready to go, embed the slidedeck using Slideshare, and publish it the very moment you leave the podium
Publish a story about the session in your next newsletter
Make your eBooks come alive
IT security company Lumension has a content marketing strategy to be reckoned with. Check out their eBook series to see how they integrate YouTube videos, podcasts and case studies.
5. Optimize for the social, searchable web
To get the most out of your content, you need to make sure it's easily found and shared online. Some quick tips:
Content registration pages should be content-rich, compelling, and optimised to generate inbound traffic from search engines…see Hubspot's landing page for its 15 blogging mistakes and easy fixes.
The same goes for landing pages for content assets that are freely available but not easily indexed (e.g. webcast replays and podcasts)
Incorporate social sharing tags on all materials – not just web pages – for example eBooks and whitepapers
Content publishing sites such as Slideshare and Scribd can be hugely effective, but you still need to optimise content on these channels to get found by your target audiences – think titles and tags
Google indexes PDFs, but if your datasheets and reports are to be found, make sure the file names are optimised for your primary keyphrases, for example:
Good: pharma-pricing-database.pdf
Not so good: brochure3452_final.pdf
6. Liberate under-performing assets
Content sitting behind registration pages isn't indexed, so it's harder to find, and is less frequently shared. Sure, some content should sit behind registration pages, but rarely all of it.
Where registration-based content isn't performing, consider publishing it freely without the registration requirement. You won't generate a direct lead, but you'll significantly improve the your reach, and you still have the opportunity to engage readers and drive leads a little further down the purchasing path.
So there you go: 6 tips that should help you get more from your content – anyone got any more?
{ 0 comments }